Pack Pools offers services to make sure your swimming pool and spa look and run their best. Our service rates are competitive with others in the area, yet far more comprehensive. Customers are notified what day each visit will occur, and each visit you will receive a service door hanger indicating all actions we have taken, any chemicals added and other helpful information. Our pool cleaning technicians are easily identified by the Pack Pools logo on the truck.
To order services, please call (512) 869-7665.
Pool Cleaning Services Performed by Our Experienced Team :
empty skimmer baskets
test chemicals
skim pool with net
empty cleaner basket
clean pump
check equipment
add chemicals as needed
backwash as needed
6 months free cleanings!
CLEANING SERVICES WORTH UP TO $1000.00 — YOURS FREE WITH YOUR REFERRAL.
PACK POOLS REFERRAL OFFER:
Refer a friend to John Pack Custom Pools for their new dream pool or outdoor entertainment space, and receive free cleaning services for your own pool from Pack Pools.
Referral must contract with John Pack Custom Pools within 3 months. Pack Pools cleaning services will be at no charge for 6 months or up to a value of $1000.00, which ever comes first. Complementary cleaning services begin once referral's new pool construction begins.
Call (512) 869-7665 for more information.
Service Options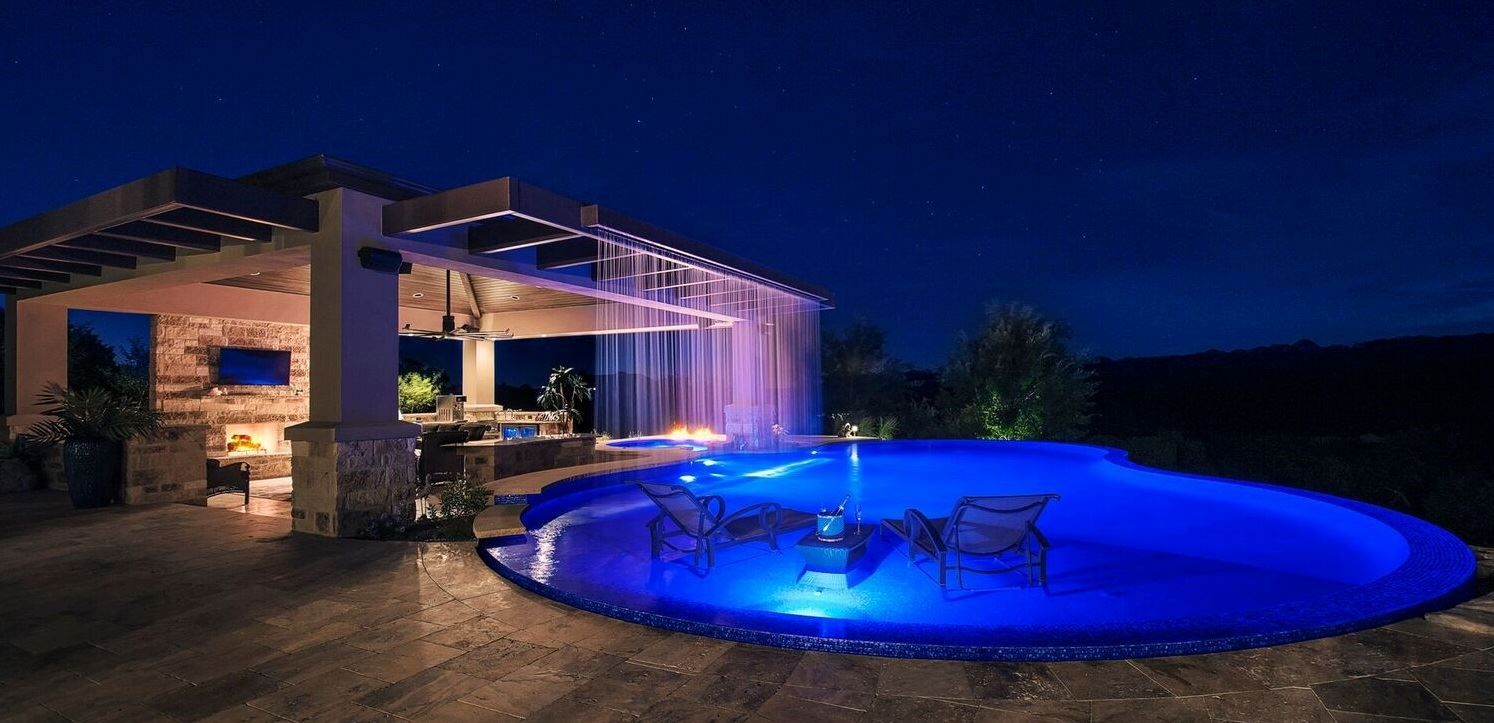 Weekly Cleaning
This is our standard and most efficient service. We clean the pool, maintain chemical levels, clean all baskets, and review equipment for efficiency. This service is for the customers who want their pool taken care of and hassle free year round.
$45 per visit
Bi-Weekly Cleaning
Our bi-weekly cleaning consists of the same thing as the weekly cleaning, but it is only performed every other week. This is for the customer who has some time to maintain the pool and has a good understanding of balancing the chemicals, but would still like a little assistance servicing the pool.
$50 per visit
Monthly Cleaning
This service consist of cleaning the pool, maintain chemical levels, clean all baskets and review equipment for efficiency. Performed once per month and is only recommended for the customer who is efficient with all the aspects of cleaning and maintaining chemical levels, but would like us make sure everything is looking good.
$65 per visit
Winter/Summer Cleaning
This service is for our customers who want their pool taken care of every week during the swimming season, but would like to cut back during the off season. We perform our weekly cleaning service March 1st - Oct. 31st, then we go to our every other week service from Nov. 1st - end of February.
$48.50 per visit
Chemical Check
Only chemical, we do not clean the pool itself, we will review the equipment for efficiency. This service is ideal for the customer who has the time to maintain their pool, but would like a little extra help to make sure everything is balanced and running smoothly. **
$35 per visit
(**Chemical Check service excluded from routine cleaning service)
To order services, please contact us at (512) 869-7665.
Chemicals and Repairs
Chemicals vary in usage depending on the time of year, billed in addition to service charges. Additional cleanings are upon request only billed separately. Pool cleaning days will be assigned by Pack Pools, Inc. and are subject to change. Weather conditions may effect the service dates of your scheduled cleaning. Adding or draining water from the pool is not included in our service program.
Repairs and/or maintenance of pool equipment are not included in cleaning services and billed separately. There is a service charge of $115 for the first ½ hour and $115 an hour thereafter. The cleaning services technicians are on a daily schedule, time constrains prevent us from performing any repairs during weekly cleaning visits. Cleaning service technicians will inform the service department of defective equipment and leaks, customer informed accordingly. Service calls require customer's approval and are subject to credit card policy.
John Pack Custom Pool's service maintenance program is designed to supplement the homeowner's daily maintenance routine. Swimming pools should be checked daily and our service alone does not and cannot provide the total maintenance without homeowner participation or additional service as is required. Pack Pool's service options offer basic functions of maintenance and chemical testing. Our visits do not replace the need to follow proper pool care as detailed by the manufacturer for their product and general pool care guidelines. Please check your pool daily or more frequently as needed for proper care.